Biog & Reviews Singer Songwriter Gigs Songs Videos Photos Weddings & Events Composing Blogs Shop All Things Harp! Bookings & Contact

Session Work
Over the years Sarah has contributed vocals, harp and flute on a variety of interesting projects. Always a joy, it's a chance to have a break from the solo work and meet up and experiment with great musicians!
~ Bryan Josh (Josh & Co. Ltd) ~ Channel 4 SkyWorks Documentary ~ Ten ~ John Storey ~ Chris Helme ~
~ S12 Productions ~
Other Projects
Sarah is proud to have been asked to work with other artists on various interesting collaborations
~ Steve Hacketts Biography "Sketches of Hackett" ~ Beneath The Oak ~ Chuang's Dream ~ East/West ~ Chechelele ~
~ Making Music in Tanzania ~ Sarah Dean & Eddie Affleck ~ The Arts Barge Ensemble ~ Hannah Witcomb ~
Bryan Josh is known as 'the heart and guitar' of highly acclaimed band Mostly Autumn. His prolific writing meant that he produced an album of solo work entitled Through These Eyes. Sarah was asked by Bryan to add some flute on the on a song called Old Friends. Over the years Sarah has also provided live backing vocals on the beautiful carol 'Silent Night' which Mostly Autumn perform at Christmas time.
Chris Helme is a wonderfully creative singer songwriter, and it was over a conversation whilst busking in York one day, that led to a happy afternoon playing around with some harp accompaniments to two songs for potential inclusion to his latest album The Rookery. It's always exciting to work with other musicians, there's always something to learn by seeing how other people work and go through the creative process. Chris is currently busy writing his next album and there's a good chance that the harp will feature on this album.
Channel 4 SkyWorks Documentary on Cloud watching with
Gavin Pretor-Pinney
An avid Cloud watcher and member of the Cloud Appreciation Society this was a joy to be asked to submit a song on Cloud watching! 'Cloudstreets' was written by Sarah and filmed and recorded for the making of the Channel 4 documentary. Read this article on the recording of the song Cloudwatching at Fairview Recording Studios with engineer John Spence.
Leeds based ambient folk group Ten got in touch after hearing about Sarah's Celtic Harp playing and a new musical connection was made with the boys behind this most unusual and creative musical group. It was a delight to do some experimental playing and it was a very enjoyable project to be a part of.
Dom Frazer and Sean Smith are a couple of young enterprising young men, who are busy building a great business and reputation. Their company specialises in audio recording, mixing, music composition, sonic branding and song production. What sets them apart from the normal recording studio is their own personal talent as musicians and composers, a great combination for anyone looking to record and develop their musical ideas. In 2012 they received a Young Entrepreneur award from the Duke of York for their innovative ideas and business strategies. I was really happy to provide a wee bit o harp on one of their tracks. They were brilliant and have such a lovely calm manner. During the afternoon I recorded some 8 demos and so I very much look forward to working with them again.
John Storey has over recent years produced 3 fine albums of self-penned songs. John hails from Harrogate and Sarah met John through the York Songwriters Circle has had the pleasure of adding vocals and harp to several of Johns songs. 'Let Spring Return' and 'The Brightest Star' on the 2010 album Storey Lines and more recently ''Dear Molly' and 'What Did You Do In The War Dad?' from the 2013 album 'More Storey Lines'.
Listen to Johns excellent songs at www.johnstoreymusic.net
Fond memories of the time in this three piece, tales of knights and maidens, green forests and wonderful spirits, Beneath The Oak explored a time gone by with some quite sumptuous atmospheric soundscapes and lyrics ~ a convivial collaboration with the talents of Paul Wale on mandolin and vocals and Phil Holliday on guitar ~ happy times touring too with a band! See here a clip of My Eyes Close recorded at the Orange Street Music Club in Canterbury.
Chuang's Dream ~ Phil Holliday
The multi-talented Phil Holliday writes some fine lyrics and is quite masterful on the guitar. Atmospheric and sensitive songs ~ watch and listen here for a version of Phil's beautiful song The Butterfly.
Collaboration for York Minster Jorvik Viking Festival Concerts
Hannah Witcomb is a talented music graduate from the University of York. She is quickly developing her career as a very fine young soloist. During the Jorvik Viking Festivals of 2012 and 2013 Sarah was asked to write and perform harp accompaniments on three Scandinavian songs that Hannah had chosen to sing. Hannah and Sarah performed these songs within the majestic and stunning acoustics of York Minster. 'Boares Gietka', 'Laulu Armaalleni' and 'My Friend of Angel Tribe' were beautifully sung by Hannah and this collaboration will continue in the future with hopefully plans by the duo to record the songs.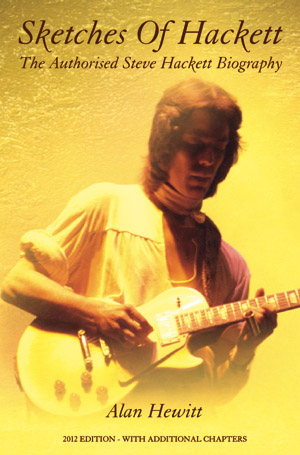 Steve Hackett's Biography "Sketches of Hackett" ~ Assistant Editor
A good friend Alan Hewitt was writing 'Sketches of Hackett' - a unique biography of this amazing guitarist. Steve left Genesis in the mid 70's to carve his own successful path as a solo artist. Steve Hackett's prolific writing ensures that he continues to add to his fine body of work and tour extensively. So it was great pleasure to be involved in the fine tuning of the text in the form of assistant editor to Jerry Bloom, chief editor and publisher. Richard Nagy is responsible for the fine artwork and design within the book....and for all the artwork design on this website! It was a truly wonderful project to be involved in and a chance to meet and chat with someone for whom I have the highest admiration as a musician for.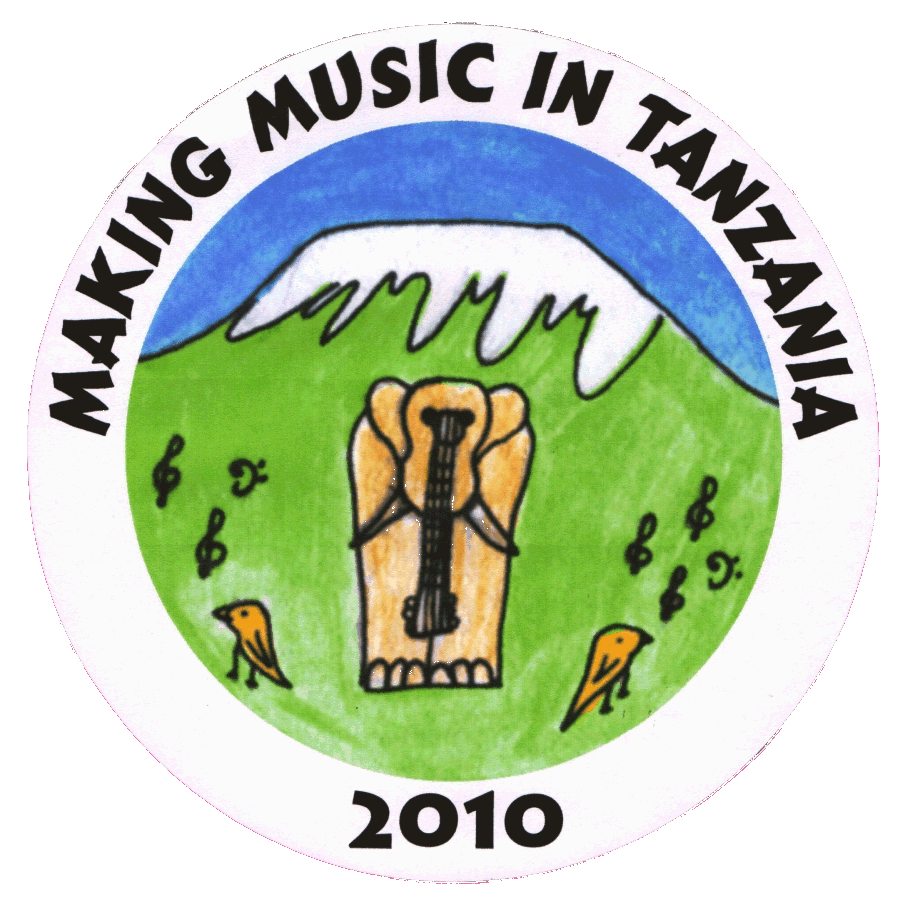 Making Music in Tanzania
Seven Musicians ~ Three weeks ~ Two Schools ~ 41 classes!
This was a trip of a lifetime, seven musicians going to two schools in Moshi, Tanzania. Rob Davies who does sterling work for Ryedale Special Families and Ryedale Live! climbed Mount Kilimanjaro one year! As you do! Combined with his visit was a few days at a local school, helping out. Inspired by this trip, the next year he organised the Making Music In Tanzania project. The remit was to teach english through music and song. That we did! A wonderful opportunity to meet and experience the children and their joy of learning, and joy of singing and dancing. To be honest there wasn't much we could teach these amazing children in the way of singing and dancing, such is their natural gift of exuberance, talent and ability. But we had a wonderful time albeit too brief. Great admiration for the teachers too, with so little resources at hand in the way of teaching aids, they were rich indeed in the love and care they showed for these children. It was very moving.
Traveling together were chief organiser Rob Davies, David Swann, Rachel Atkinson, Brooks Williams and his wife Jo, and Paula Ryan. We taught up to 7 lessons each day and were looked after so well by all the teachers and children.
I still maintain that the children taught us more than we could teach them, their joyous happy smiling faces will stay with me a lifetime.....
Through The Black Swan Folk Club based in York I have met many wonderful musicians and lovely friendships have been made. Eddie is a very talented guitarist and singer and budding songwriter. Born in Edinbrough Eddie has a broad repertoire of border songs. It has been a pleasure to join him in a duo format from time to time. Harmony vocals and the guitar and harp melding together taking both our sets of songs into a refreshing new direction.
There's a clip below with us singing Man In The Long Black Coat ~ I'm the one with the deep growly voice doing a Tom Waits impersonation!
Click here to see us performing together at The National Centre of Early Music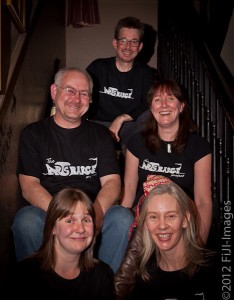 The Arts Barge Project ~ The Arts Barge Ensemble

Skippers of The Arts Barge; from the top, clockwise; Christian, Marcia, Hannah, Jane, Steve
The Arts Barge Project is a community collective of artists, musicians and performers who want to create a unique venue for the arts in York ~ The Arts Barge. Formed in 2008 the core group of Christian, Marcia, Hannah, Jane & Steve makes things happen with their hard work, dynamism and infectious ability to create wonderful artistic happenings! They are all as individuals very talented in their own right, but together they have created something very unique.
The Arts Barge Ensemble is a moveable feast of musicians who get together and create great music! I have been delighted to work with the incredible creative talent of Christian Topman in the Arts Barge Story that was performed in The York Grand Opera House and also the Duke stage at Galtres Festival 2011.
If you would like to help in the funding of the Arts Barge please visit
www.pleasefund.us/project/the-arts-barge-project
One of my earliest collaborations and of which I have fond memories, was with the talents of percussionist and didgeridoo player Keith Jackman and pianist Graeme Scott. Together with the vocals, flute and recorders we enjoyed creating unusual pieces based around the amazing piano playing of Graeme and Keiths superb percussive drumming and expressive didgeridoo. We performed several times in the mid 1990's. The music was freeform, slightly jazz orientated and definitely spontaneous! Enjoyable times making music with these two very talented people!
Keith and Graeme are currently playing with the funky Jazz@Jeromes ~ they're good, go and check them out!
Chechelele is the shona word for 'Happy' ~ and I was extremely happy to see that after 20 years this York based world music choir is still going strong! Just 8 people formed the choir way back in 1993, ostensibly to play one or two gigs! Headed by the dynamic and inspirational John Low we explored the music of the African continent. This was the first time that I had sung anything like this and so the start of my performing career began! Long Live Chechelele! And thanks go to John for helping me find my voice!
In my travels I get to meet and gain inspiration from loads of talented people. Most of the links below are friends that I have spent many a happy hour playing with. Check out their websites below.
David Breslin York Songwriting Circle Heather Findlay Sally Gatenby Carl Hetherington Tony Jawando Chris Johnson Tony Morris Tony Morris - Fluting and Floating Aimie Ryan Simon Snaize